Basic Journal Entries Question:
Capital + Fixed Asset Purchase
by Jelyn
(Philippines)
Before you begin: For purposes of exams and testing it's important to make sure you not only answer accounting questions correctly but complete them at the right speed. Be sure to time yourself for this exercise.




Difficulty Rating:
Beginner

Time limit:
5 minutes
Question: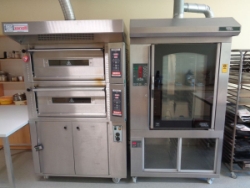 Prepare the journal entries for the following transactions:

1. The business received 412,000 cash from Mr.Y for investment in a business.

2. The company bought machines for the business in the amount 57,000.
Solution:
The solution for this question has been provided below in the comments section as contributions from site visitors like yourself. The editor's notes in
italics
indicate the comments that have the correct solutions.
Note that in some of the comments below, the word "investment/s" was used to describe the first journal entry. This is incorrect. The first transaction is a capital investment, meaning an investment by the owner, and should be described as
"capital."
Best,
Michael Celender
Founder of Accounting Basics for Students
Related Questions & Tutorials:
Click here for more Basic Accounting Questions and Answers