Bad Debts in Cash Flow Statement?
by Katrien
(Havelock North, New Zealand)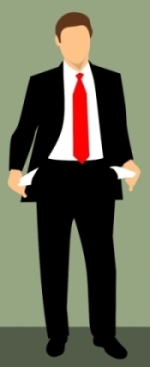 Question:
Where is the writing off of bad debts entered on the cash flow statement?




Thanks,
Katrien

Answer:
Hi Katrien,
That's kind of a trick question. Because bad debts are generally
not
included in the cash flow statement - at least, not when using the
direct method
:
You see, bad debts are not an actual flow of cash. Remember that bad debts are simply a book entry that you record when you expect someone who owes you
(debtor/accounts receivable)
to
not
pay you in the future.
So it's just an accounting entry (a loss or expense) but there is no actual
cash
involved in the transaction.
Bad debts are thus included as an expense in the
income statement
but not included as a line item in the cash flow statement (direct method).
It should be noted that bad debts do, however, form part of the calculation of cash generated from operations when using the
indirect cash flow statement,
which is the preferred method in the US. For more info on exactly how and where it fits in there, see the
tutorial on the indirect cash flow statement method
.
Hope that answers your question! Good luck!
Best,
Michael Celender
Founder of Accounting Basics for Students
Related Questions & Tutorials:
Return to the main Cash Flow Statement Tutorial