T-Accounts, Journal Entry and Trial Balance Question
by Jane
(Philippines)
Before you begin: For tests and exams it's really important to not only answer questions correctly but do so at the right speed. Grab a pen and piece of paper and make sure you time yourself while attempting this exercise.


Difficulty Rating:
Intermediate

Time limit:
40 minutes
Question
Juan de la Cruz began professional practice as a system analyst on July 1. He plans to prepare a monthly financial statement. During July, the owner completed these transactions (PHP = Philippine Peso, currency of Philippines):

July 1. Owner invested PHp 500,000 cash along with computer equipment that had a market value of php. 120,000 two years ago but was now worth Php. 100,000 only.
July 2. Paid php. 15,000 cash for the rent of office space for the month.
July 4. Purchased php. 12,000 of additional equipment on credit (due within 30 days).
July 8. Completed awork for a client and immediately collected the php. 32,000 cash.
July 10. Completed work for a client and sent a bill for php. 27,000 to be paid within 30 days.
July 12. Purchased additional equipment for php. 8,000 in cash.
July 15. Paid an assistant php. 6,200 cash as wages for 15 days.
July 18. Collected php. 15,000 on the amount owed by the client.
July 25. Paid php. 12,000 cash to settle the liability on the equipment purchased.
July 28. Owner withdrew php. 500 cash for personal use.
July 30. Completed work for another client who paid only php. 40,000 for 50% of the system design.
July 31. Paid salary of assistant php. 700.
July 31. Received PLDT bill, php. 1,800 and Meralco bill php. 3,800.

Required:
Prepare the journal entries, T accounts and trial balance for this business.
Solution
Journal Entries:
July 1 Dr Cash 500,000
Dr Computer Eqpt 100,000
Cr Capital 600,000

Owner started business with cash and computer Eqpt.

2 Dr

Rent Exp 15,000
Cr Cash 15,000

Paid rent of office for the month of July.

4 Dr Equipment 12,000
Cr Creditors 12,000

Equipment purchased for business use.

8 Dr Cash 32,000
Cr Services rendered (income) 32,000

Services rendered for a client.

10 Dr Debtors 27,000
Cr Services rendered (income) 27,000

Services rendered for a client.

12 Dr Equipment 8,000
Cr Cash 8,000

Additional equipment purchased.

15 Dr Salaries & Wages 6,200
Cr Cash 6,200

Paid wages to assistant for 15 days.

18 Dr Cash 15,000
Cr Debtors 15,000

Received cash from debtor.

25 Dr Creditors 12,000
Cr Cash 12,000

Creditors of Eqpt purchased, settled.

28 Dr Drawings 500
Cr Cash 500

Owner withdrew cash for personal use.

30 Dr Cash 40,000
Dr. Debtors 40,000
Cr Services rendered (income) 80,000

50% amount received by a client on a/o work completed.

31 Dr Salaries & Wages 700
Cr Cash 700

Paid salary to the assistant.

31 Dr Utilities Exp (PLDT) 1,800
Dr Utilities Exp (Meralco) 3,800
Cr Creditors 5,600

PLDT and Meralco have been assumed to be the utility companies.

Note: In this example we have combined salaries and wages into one account, but sometimes in real life these are kept separate - one account for wages and another account for salaries.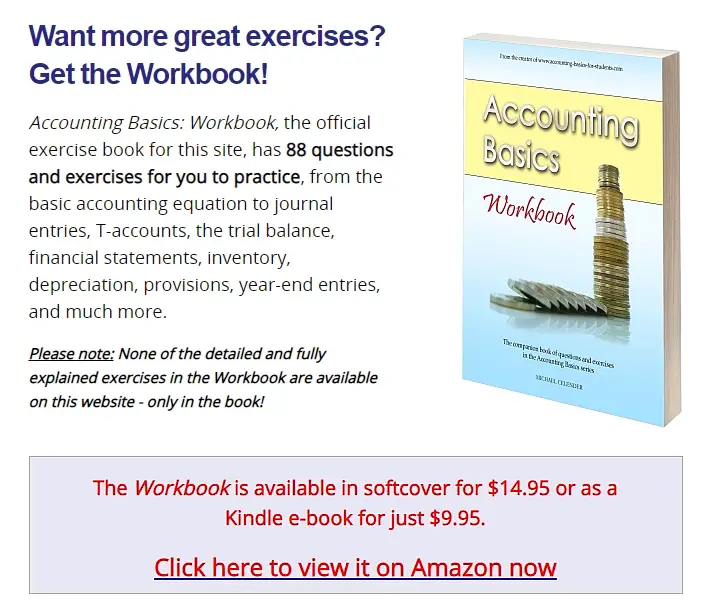 T-Accounts: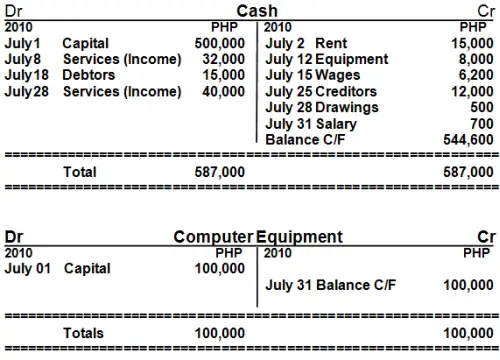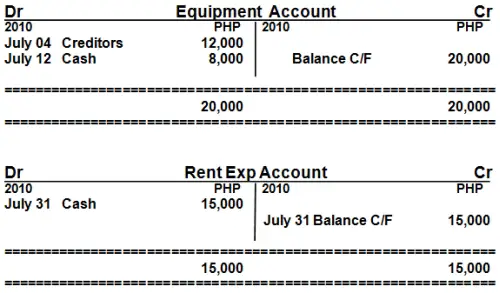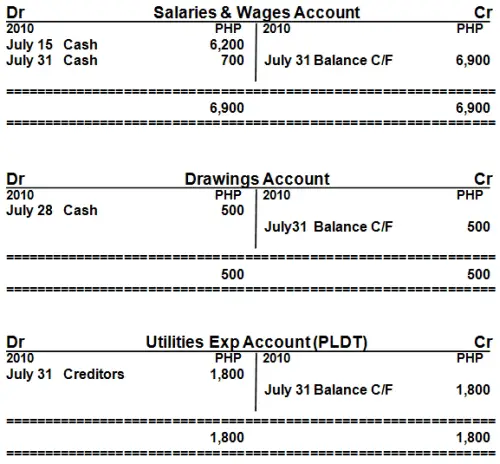 Trial Balance: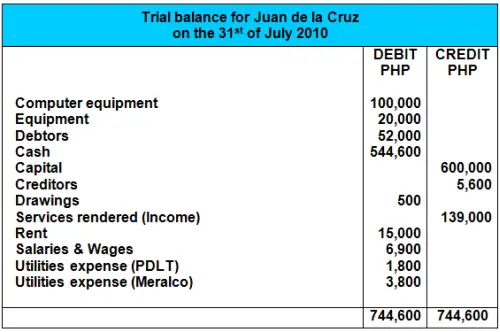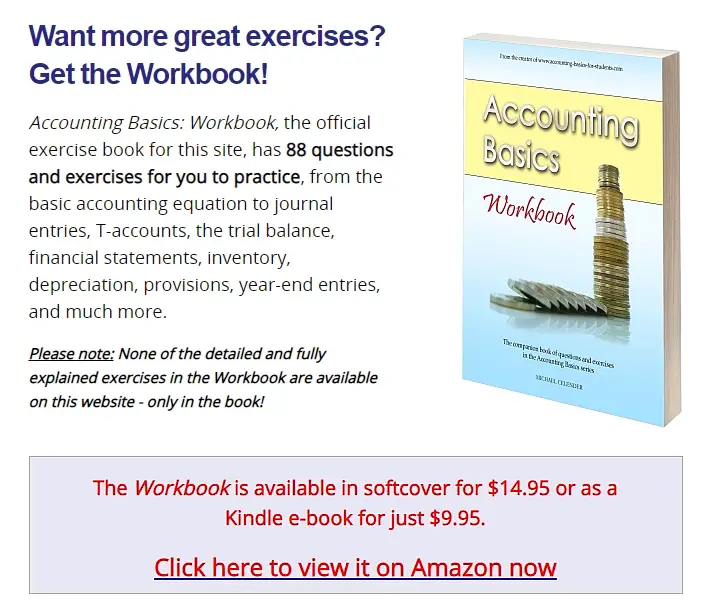 Tutorials relating to this T-Accounts, Journal Entry and Trial Balance Question:
That's it! Hope you enjoyed this detailed exercise on journals, T-accounts and the trial balance.
Best of luck with your studies!
- Michael Celender
Founder of Accounting Basics for Students
For more free exercises return to the Full Accounting Questions and Answers page.