Journal Entries and Ledger
Question and Answer
Before you begin: For purposes of testing and exams it's important to make sure you not only answer questions and exercises correctly but also complete them at the right speed. Use a watch or clock to time yourself while attempting this exercise.


Difficulty Rating:
Intermediate

Time limit:
20 minutes
Question:
Q: Mr Robert commenced business on 1st January, 2011 with a capital of $100,000 in cash. On the same date he opened the bank account in ADCB and deposited $20,000. During the month of January 2011 the following transactions took place:

Jan 1 Bought goods for cash 70,000

2 Sold goods to Steve Co. (Credit) 38,000

15 Sold goods for cash 9,000

21 Steve Co. paid by cheque 35,000

22 Stationery bill paid by cheque 2,000

22 Telephone bill by cash 500

31 Paid rent by cash 2,000

Paid salaries by cash 3,000

Withdrew cash personal use 5,000

Required:
Record journal entries for the transactions and post them to ledgers.
Solution:
Journals:
Jan 1 Dr Cash on hand 80,000
Dr Bank 20,000
Cr Capital 100,000
Note that in most accounting questions you won't have to account for "Cash on hand" and "Bank" in separate accounts. In most questions I just combine these into "Bank." But in this question they specifically talk about opening the bank account with $20,000 of the $100,000, which indicates they kept cash on hand in addition to the bank account, which needs to be accounted for.
1 Dr Purchases/Inventory 70,000
Cr Cash on hand 70,000
Note that it's "Purchases" for a periodic system of inventory and "Inventory" if it's the perpetual system. See the tutorial on perpetual and periodic inventory for more information.
2. Dr Debtors 38,000
Cr Sales 38,000

15. Dr Cash on hand 9,000
Cr Sales 9,000

21. Dr Bank 35,000
Cr Debtors 35,000

22. Dr Stationery expense 2,000
Cr Bank 2,000

22. Dr Telephone expense 500
Cr Cash on hand 500

31. Dr Rent expense 2,000
Cr Cash on hand 2,000

31. Dr Salaries 3,000
Cr Cash on hand 3,000

31. Dr Drawings 5,000
Cr Cash on hand 5,000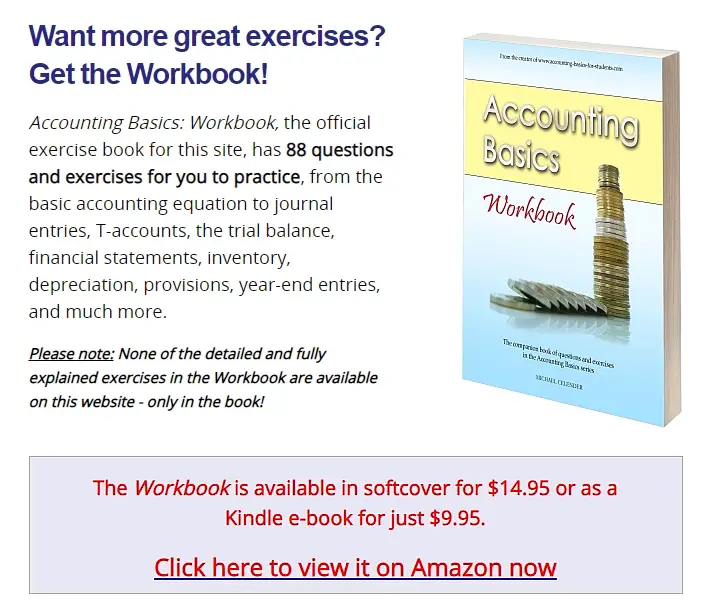 Ledger:
There you go. Hope you enjoyed this detailed journal entries and ledger question and answer.
Thanks to Kay Khine, Kong Chenda and others for contributions in the Comments section below that helped solve this question!
Good luck with your studies!
- Michael Celender
Founder of Accounting Basics for Students
Tutorials relating to this Journal Entries and Ledger Question and Answer:
Find more free exercises like this on the Full Accounting Questions and Answers page.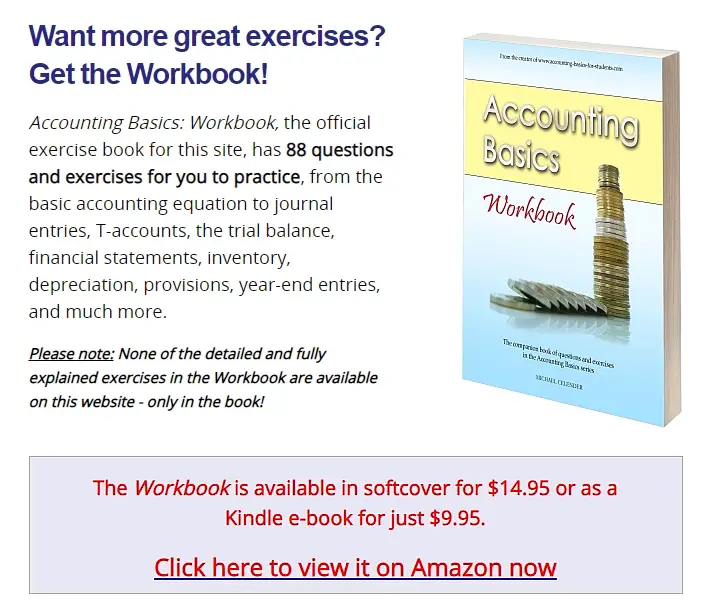 ---
---
---
© Copyright 2009-2021 Michael Celender. All Rights Reserved. 
Click here for Privacy Policy.