How to Calculate VAT
by Kevin
(Pretoria, South Africa)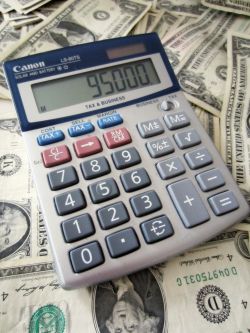 Question:
How do I calculate the VAT included in the debtor and creditor control accounts?
Answer:
Control accounts for debtors and creditors are the totals charged to a customer. They are the
full amounts of the sale including VAT
(Value-Added Tax) that are owed from one party to another.
In other words, they are always
VAT inclusive,
meaning that the figure is the total of the
actual sales price plus VAT.
It's important to understand that the VAT percentage is always based on the
actual sales value
of the product or service - before adding VAT. So for example, if the VAT rate is 14%, that's 14/100 of the actual sales figure.
Since the sales figure is the basis of our calculation (the basis of calculating the VAT portion), we always assign this a mathematical value of 100% when doing these calculations.
In mathematical terms, the total for debtors or creditors equals:
100% + 14% = 114%.
Calculating the VAT Portion from the Debtors / Creditors Total (VAT Inclusive Figure)
If you want to calculate the VAT portion and you only have the total of debtors or creditors, you take this last figure and multiply it by 14/114.
So, for example, if our total debtors amount owing to the business is R228 (R = rands = South African currency), then we do the following:
VAT Portion = Total Debtors x 14/114
= R228 x 14/114
= R28
Calculating the Actual Sales Figure (VAT Exclusive) from the Debtors / Creditors Total (VAT Inclusive)
The actual sales figure here (excluding VAT) could be calculated in 2 ways:
1) If we have the VAT figure already, we could just take the total of the debtors, which includes VAT, and subtract the VAT figure:
R228 - R28
= R200
2) If we don't have the VAT figure, but we have the VAT rate, we could take the total debtors figure and multiply this by 100/114:
R228 x 100/114
= R200
Hope that helps and that you now have a better understanding of how to calculate VAT!
If you want more examples of how to calculate VAT or how to calculate any of the other figures like the sales figure or the debtors or creditors total, then check out the
comments section below,
which has a whole bunch more questions and answers.
Best,
Michael Celender
Founder of Accounting Basics for Students
Related Questions & Tutorials:
Return to our page of Full Accounting Questions and Answers