Debtors and Creditors Ledger Question

Before you begin: It's important for testing and exams to make sure you not only answer questions correctly but also completed them at the right speed. Grab a pen and piece of paper and time yourself while attempting this exercise.


Difficulty Rating:
Intermediate --> Advanced

Time limit:
30 minutes
Q: Please prepare the debtors and creditors ledger control account for the following:

Balances:
Debtors (1/1/10) 150,000
Creditors (1/1/10) 45,000
Bad debt 2,200
Discount Received 2,500
Cash Received from debtors 115,000
Cheque Receipt from debtors 5,000
Set off 1,200
Discount Allowed 1,150
Credit Sales 25,000
Credit Purchases 12,000
Cash payment to creditors 18,000
Cheque payment to creditors 11,200
Understated Credit sales 1,500
Overstated cash receipt from debtors 2,000
Return Inward 1,300
Return Outwards 1,600
Overstated Cheque payment to creditors 1,000




A:
Here are the debtors and creditors control accounts: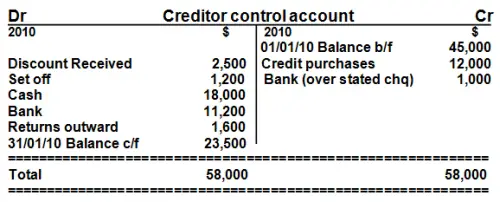 All transactions have been assumed to have taken place in the month of January 2010.
For more information on debtors and creditors control accounts see
my tutorial on debtors and creditors control accounts
.
Note that this question covers some advanced subjects such as returns (inwards and outwards) as well as bad debts. I don't cover these topics on my site. Only in my
basic accounting books
. Consider purchasing them if you need more info on these topics.
Hope you enjoyed the solutions here!
Best,
Michael Celender
Founder of Accounting Basics for Students
Related Questions and Tutorials:
Return to the full tutorial on Debtor and Creditor Control Accounts
Check out our page of Full Accounting Exercises