Looking for an Accounting Tutor?
Looking for an accounting tutor? Here are some great options…
If you are an accounting tutor, you are welcome to submit your details in the form in section 2 below...
1. Wyzant Tutors (U.S. Only)
Never heard of Wyzant? They're awesome – I highly recommend them! Wyzant is like a marketplace for local tutors in the US, and is arguably the leading source of tutors online.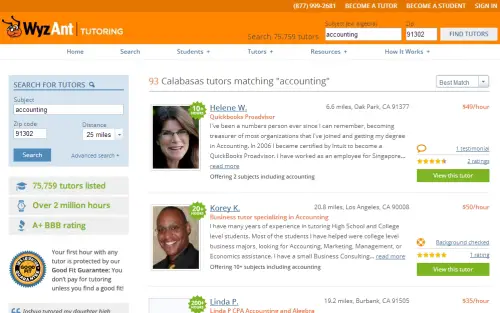 Finding a tutor on their site is very simple and easy. You do a search for tutors in your area by putting in the subject (accounting) and your zip code. You can then see a list of suitable tutors in your area and can compare them to each other. Not only can you see what the tutor has to say about him- or herself, you can also check out reviews and feedback from past students.
Once you've found some accounting tutors in your area you can contact them (for free) to make sure they are a good fit and to work out a schedule. Wyzant will only start charging you after the first lesson; so you can contact the tutor, speak to them on the phone or in person to get a feel for them without any charge or commitment. 
The cost per hour ranges from around $30-50. There is no need to commit to a certain number of lessons but if you want to save some money you can purchase a prepaid tutoring package and get a discount. Lessons are provided at your home or at another agreed-upon venue like a coffee shop or library.
Wyzant tutors are tested and reviewed to ensure their competence in the subject/s they're tutoring. They even offer a money-back guarantee of their tutors – they will cover the cost of the first hour of tutoring with any tutor if you're not 100% satisfied with the experience.
---
2. More Accounting Tutors
Do you know a good accounting tutor? Or would you like to teach accounting yourself? Fill out the form below and we will add your details below to this page... 
(See further below this form for tutors that have already posted their details and/or that have been recommended by others).
Recommend a Tutor
Know a good accounting tutor? Tell us about him/her...
More Accounting Tutors
Click below to see more accounting tutors...
Accounting Tutor: Pakistan 

Hey, I am an Accounting tutor, I have done ACCA (Association of Chartered Certified Accountants) and have experience in teaching accounts.
Tutor for Finance and Accounting (Toronto, Canada and US) 

Craig Davies, B.Sc. MBA Since earning my Finance MBA in 2003, I have been helping students improve results in finance and accounting courses at undergraduate …
---
Return from Find an Accounting Tutor to Student Resources and Links
Stay up to date with ABfS!
Follow us on Facebook:

---
© Copyright 2009-2023 Michael Celender. All Rights Reserved. 
Click here for Privacy Policy.