Welcome to issue 2 of The Student Accountant, the official E-newsletter of Accounting-Basics-For-Students.com!

In this issue:
1. New materials! Accounting Coach Exams
2. Questions from Student Accountants
3. New Section: Student Voice – and Competitions!


---
1. New materials! Accounting Coach Exams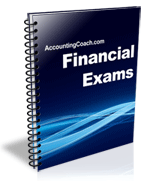 We've released a whole bunch of new materials on the site to help you in your accounting studies.

To be specific, a series of Accounting Exams from Accounting Coach.

As you are probably aware, one of the key things to do when studying accounting is to practice questions/exercises, and these three E-books will give you lots of good practice.

There are three exams in this series, a Bookkeeping Exam, an E-book of Financial Accounting Exams (pictured here) and another on Managerial and Cost Accounting Exams.

Each E-book contains tons of questions and exercises. I have gone through the materials myself and can tell you that the questions are very well put together and will test you thoroughly on the subject, whether that subject be financial accounting or managerial accounting (sometimes known as "financial management").

These are the only E-books of accounting questions that I recommend.

Click here to read more about what's in each of these E-books...


---
2. Questions from Student Accountants
In each issue of The Student Accountant newsletter, we're going to list some of the latest questions from accounting students that have been posted on the Accounting-Basics-For-Students.com website regarding any accounting lessons and topics.
Some of these questions may not be of interest at all… If so, no worries, you're not expected to read each one. Just browse through the list below and click on any questions that interest you to see the full article, and just skip the rest...
Also, feel free to submit comments on any of the questions/articles themselves.
Here are the latest and greatest accounting questions that have been submitted and answered:

Journal Entry: Issuing Shares for Assets

What is b/d and c/f?

Multi-Step Income Statement

Accounting Treatment for Carriage Inward

General Entry for Accrued Rent

How do the Journal Entries Translate into the Profit and Loss and/or Balance Sheet? And Why As a Business Owner Should I Know Debits and Credits?

Interest on Loans – Income or Expense?

Accounting Entry for Giving Away a Free Sample

Is Carriage Inward a Direct or Indirect Expense?

Carriage Inward Included in Creditor's Control Account?

You can see a full list of the latest questions, lessons and articles by visiting the Accounting Basics Blog.

And you can submit your own accounting questions at the bottom of the page of every lesson on the site.


---
3. New Section: Student Voice – and Competitions!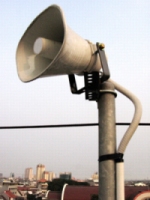 As mentioned in the first issue of The Student Accountant, we want to hear what you have to say.

So, guess what? We created a whole section on the site just for this purpose, called Your Voice.

So far you can find the following pages under this section:

- Your Personal Student Web Page: A section where you can tell us who you are, where you're studying, how it's going, what your goals are, etc. In other words, your story. Your own page about you.

- Student Stories: A fun section where you can tell a specific story from your time as an accounting student. We're looking for really funny stories, really crazy stories, really horrible stories - about anything you've experienced at school, university or college...

- Accounting Tutors: A section where you can list or find accounting tutors (for now we really need people listing tutors to build up this resource). You can submit someone you know or they can submit their details themselves.

Did I mention there are multiple competitions happening right now for these pages?

That's right! Submit a qualifying entry to any of the three pages above and stand a chance of winning a copy of the official Accounting Basics for Students E-book, valued at $25! We're giving 3 away for each web page – 9 E-book giveaways in total – so submit today and there's a good chance you'll win…

Competition ends on March 31st, 2011, so get your entries in now!

By the way, in future we will probably add more pages to the Your Voice section, so stay tuned…

Click here to let us know what you think of these new pages, and/or to let us know what other pages and/or information you would like to see on the site…


---

Until next time, here's to your success as a Student Accountant!

~ The Editor
Accounting Basics for Students.com


---
New!

Comments Have your say about what you just read! Leave me a comment in the box below.