Now Let's Define Liability
---
Previous lesson: What are Assets?
Next lesson: What is Owners Equity?
---
A
liability
is officially defined as:
A present obligation of the enterprise arising from past events, the settlement of which is expected to result in an outflow from the enterprise of resources embodying economic benefits.
In other words, a liability is simply...
A debt of the business.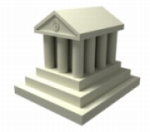 YOU --------------------> OWE --------------------> BANK



The debt will result in assets (usually cash) leaving the business in the future.
The most common liability is a
loan
. Another common liability is called
creditors
.
A creditor, also known as a payable, is any business or person (apart from the bank) that you owe.
Suppliers (who you owe for products purchased on credit) would fall under creditors.
When you pay a loan back, or you pay off your creditors, some of your assets (most often cash) will leave your business.

In our next lesson we're going to define the third element of the basic accounting equation, owners equity.




---
Previous lesson: What are Assets?
Next lesson: What is Owners Equity?
---
Ask Us a Question About This Lesson
Still scratching your head after going through this lesson? No problem. Send us a question you have relating to this lesson or topic...

Before you submit though, it's a good idea to search the site to make sure your question hasn't been asked (and answered) before... just use the search feature at the top-right of your screen to search the site for any accounting topic. If after searching the site your accounting question has still not been answered, then submit it here.
Read Other Questions Relating to This Lesson
(along with their answers)
Click below to see questions and solutions on this same topic from other visitors to this page...

Who or what is a Supplier?
Q: I don't understand the meaning of supplier... who is a supplier? A: A supplier is a business or individual that supplies your business (you) with …
Thank you!
You've made this very easy. I was freaking out before.. THANK YOU
Return from Define Liability to Basic Concepts

Return from Define Liability to Home Page