The Accounting Dictionary:
Definitions of Basic Accounting Terms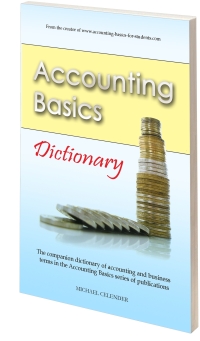 The official Accounting Basics for Students accounting dictionary provides readers with all the accounting terms and definitions needed for a solid understanding of the subject.
This accounting dictionary provides definitions of basic accounting terms (debtors, accruals, gross profit, etc.) as well as advanced accounting terminology (gearing, working capital, standard costing, etc.).
Also included are:
Banking terms (such as debit order, stop order, ACB transfer),
Investing and finance terms (such as securities, unit trusts, diversification),
Economic terms (such as inflation, break-even point, C.P.I.),
Tax terms (such as deduction, withholding tax, taxable income),
Legal terms (such as sequestrate, suretyship) and
Commonly misunderstood business terms (such as hire-purchase, remittance advice, liquidity).
With simple, concise accounting definitions and well over 300 accounting (and related) terms defined in total, this is the perfect companion for both the working bookkeeper, accountant, businessman or office manager, not to mention students studying accounting and related subjects at high school and college level.

The Dictionary is available on Amazon in softcover and is also available as an e-Book on Lulu.com (different cover but same book).

Special offer for Accounting Basics for Students visitors:
Get $2 off the softcover book on Amazon! Use coupon code 2QE7V3DR to get it for only $6.95!
Click here to buy the softcover book on Amazon.com 

(Or click here to buy the e-Book - different cover, same book) 
---
Note that this accounting dictionary is also included in the official Accounting Basics for Students basic accounting book, which also includes all the accounting lessons on this site as well as companion accounting questions and exercises.

Click here to go to Amazon, where you can take a sneak peak inside the basic accounting book. 
Return from Basic Accounting Terms to Home Page

---